Jamie Carragher looks at how to beat Chelsea's 3-4-3 system
Unstoppable? Jamie Carragher on the areas teams can exploit against leaders Chelsea.
Chelsea are seven points clear at the top of the Premier League after winning 3-0 at Leicester on Saturday. Working out how to stop their 3-4-3 is proving a challenge.
Leicester were the latest team to switch to a back three of their own in an attempt to foil Antonio Conte's men, but with little success.
Tottenham did rather better with a three-man defence earlier this month, inflicting a 2-0 defeat on Chelsea at White Hart Lane. It is the only game they have not won since September.
So what is the tactical key to troubling this Chelsea team? Jamie Carragher feels that whatever the formation adopted, it's vital to exploit the space.
"People keep changing for Chelsea," Carragher told Monday Night Football. "Everton changed and got battered. Leicester were well beaten.
"The one side that has beaten them of late, Tottenham, also went to three at the back but obviously they have got better players than Everton and Leicester.
"Thinking of the reasons why Spurs beat them, any manager needs to think, 'Where can we hurt them? Where is the space?'
"Now against this Chelsea system, the space is always around the wing-backs. It is either in front of them or behind them.
"When the wing-backs are high the space is behind the full-backs and teams can try to expose that by playing the long ball down the line and picking up the second ball.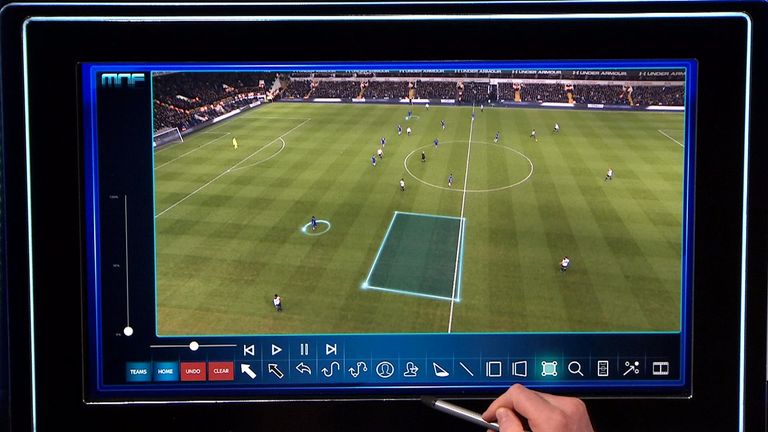 "When Chelsea go to a back five, the problem is the distance that the two midfield players have to cover. It's a big problem for Chelsea.
"That's where the space is, either side of the central midfield players, and that's what you need to exploit against Chelsea."
Tottenham were able to do so thanks to two expert crosses from the right foot of Christian Eriksen onto the head of Dele Alli.
Both goals came as a result of Eriksen occupying the pocket of space in what effectively becomes a 5-2-3 formation for Chelsea when defending deep.
The challenge is for teams to replicate the Dane's quality. "It's one thing getting into that position but you have also got to have the delivery and the finish," added Carragher.
"They are the areas where you can hurt this Chelsea team. It's not easy, but it's something for us all to look at."
loading...
loading...
Ajax vs Manchester United ( Youtube )